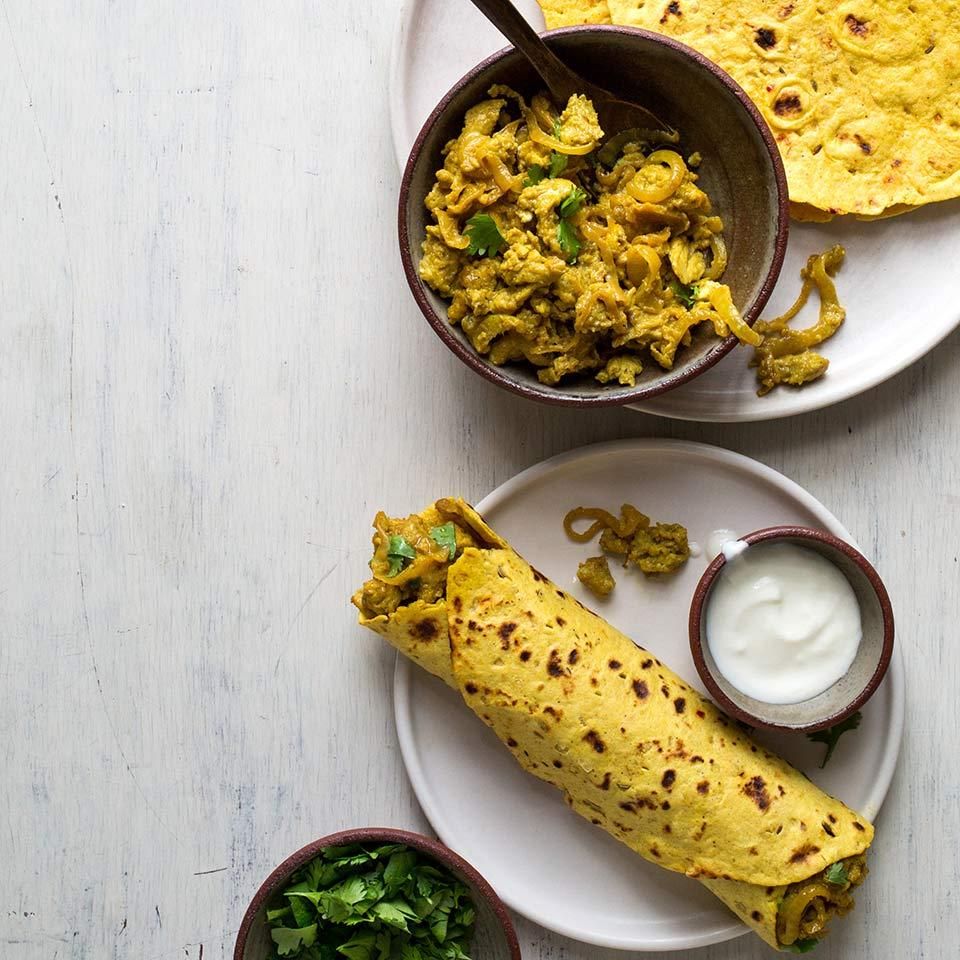 Scrambled Egg Curry
Ingredients
4 medium cloves garlic, finely grated or minced
1 1/2-inch piece fresh ginger, peeled and finely grated or minced
2 tablespoons safflower oil or grapeseed oil
1 medium onion, thinly sliced
½ teaspoon ground turmeric
2 teaspoons ground coriander
1 teaspoon Kashmiri chili powder (see Tip)
¾ teaspoon kosher salt
6 tablespoons water
8 large eggs, beaten
4 warm paratha breads or whole-wheat tortillas
Fresh cilantro for garnish
Directions
Step 1

Combine garlic and ginger in a bowl; press with a spoon to make a paste.

Step 2

Heat oil in a large nonstick skillet over medium-high heat. Add onion, reduce heat to medium and cook, stirring, until softened, 3 to 4 minutes. Stir in turmeric; cook, stirring occasionally, until the onion is light brown, 5 to 7 minutes more. Stir in the garlic-ginger paste, coriander, chili powder and salt. Stir in water, partially cover and cook until the water evaporates, about 5 minutes.

Step 3

Add eggs and cook, stirring constantly, until almost set, 4 to 6 minutes. Serve rolled in paratha (or tortillas) with cilantro, if desired.
Tips
Commonly used in Indian cuisine, Kashmiri chili powder lends a touch of heat and beautiful red color to sauces and curries. Any regular- to medium-heat chili powder can be use in its place. To bump up the heat, add a pinch of cayenne pepper too.
Nutrition Facts
Serving Size: About 3/4 Cup
Per Serving:
298 calories; protein 16.3g; carbohydrates 25.2g; dietary fiber 2.9g; sugars 1.6g; fat 17g; saturated fat 3.7g; cholesterol 372mg; vitamin a iu 541.2IU; vitamin c 3mg; folate 52.4mcg; calcium 84.2mg; iron 2.8mg; magnesium 42mg; potassium 278.8mg; sodium 525.7mg; thiamin 0.2mg.
Exchanges:
1 1/2 Starch, 1/2 Vegetable, 2 Medium-Fat Meat, 1 1/2 Fat
https://www.eatingwell.com/recipe/255183/scrambled-egg-curry/