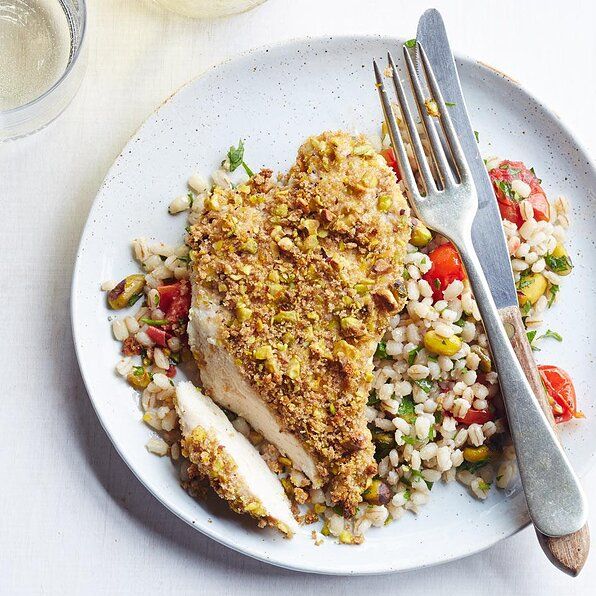 Pistachio-Crusted Chicken with Warm Barley Salad
Ingredients
Olive oil or canola oil cooking spray
2 cups water plus 1 tablespoon, divided
1 cup quick barley
1 cup salted shelled pistachios, divided
½ cup whole-wheat panko breadcrumbs
1 teaspoon orange zest
½ teaspoon garlic powder
1 large egg white
2 (8 ounce) boneless, skinless chicken breasts, trimmed and cut in half crosswise
½ teaspoon salt, divided
2 tablespoons extra-virgin olive oil
1 cup cherry tomatoes, halved
1 tablespoon white-wine vinegar
1 cup chopped fresh parsley
Directions
Step 1

Preheat oven to 450 degrees F. Coat a wire rack with cooking spray and place on a foil-lined baking sheet.

Step 2

Bring 2 cups water and barley to a boil in a small saucepan. Reduce heat, cover and simmer until tender, 10 to 12 minutes. Set aside.

Step 3

Meanwhile, pulse 3/4 cup pistachios, breadcrumbs, orange zest and garlic powder in a food processor until the pistachios are coarsely chopped. Transfer to a shallow dish. Whisk egg white and the remaining 1 tablespoon water in another shallow dish.

Step 4

Place chicken between 2 pieces of plastic wrap. Pound with the smooth side of a meat mallet or heavy saucepan to an even 1/2-inch thickness. Sprinkle the chicken with 1/4 teaspoon salt, coat with the egg mixture and dredge in the pistachio mixture, patting to adhere. Place on the prepared rack. Coat both sides of the chicken with cooking spray.

Step 5

Bake the chicken until an instant-read thermometer inserted in the thickest part registers 165 degrees F, about 15 minutes.

Step 6

Heat oil in a large skillet over medium heat. Add tomatoes and vinegar. Cook until the tomatoes just start to collapse, about 1 minute. Remove from heat.

Step 7

Drain the barley, if necessary, and stir into the tomatoes along with the remaining 1/4 cup pistachios, 1/4 teaspoon salt and parsley. Serve with the chicken.
Nutrition Facts
Serving Size: 1 Cutlet & 1 Cup Salad Each
Per Serving:
565 calories; protein 36.1g; carbohydrates 47.3g; dietary fiber 8.9g; sugars 3.8g; fat 27.3g; saturated fat 3.6g; cholesterol 62.7mg; vitamin a iu 1669.3IU; vitamin c 26.6mg; folate 47.5mcg; calcium 73.6mg; iron 3.4mg; magnesium 68.7mg; potassium 780.4mg; sodium 514mg.
Exchanges:
2 1/2 Starch, 1/2 Veg, 3 1/2 Lean Meat, 4 1/2 Fat
https://www.eatingwell.com/recipe/256494/pistachio-crusted-chicken-with-warm-barley-salad/