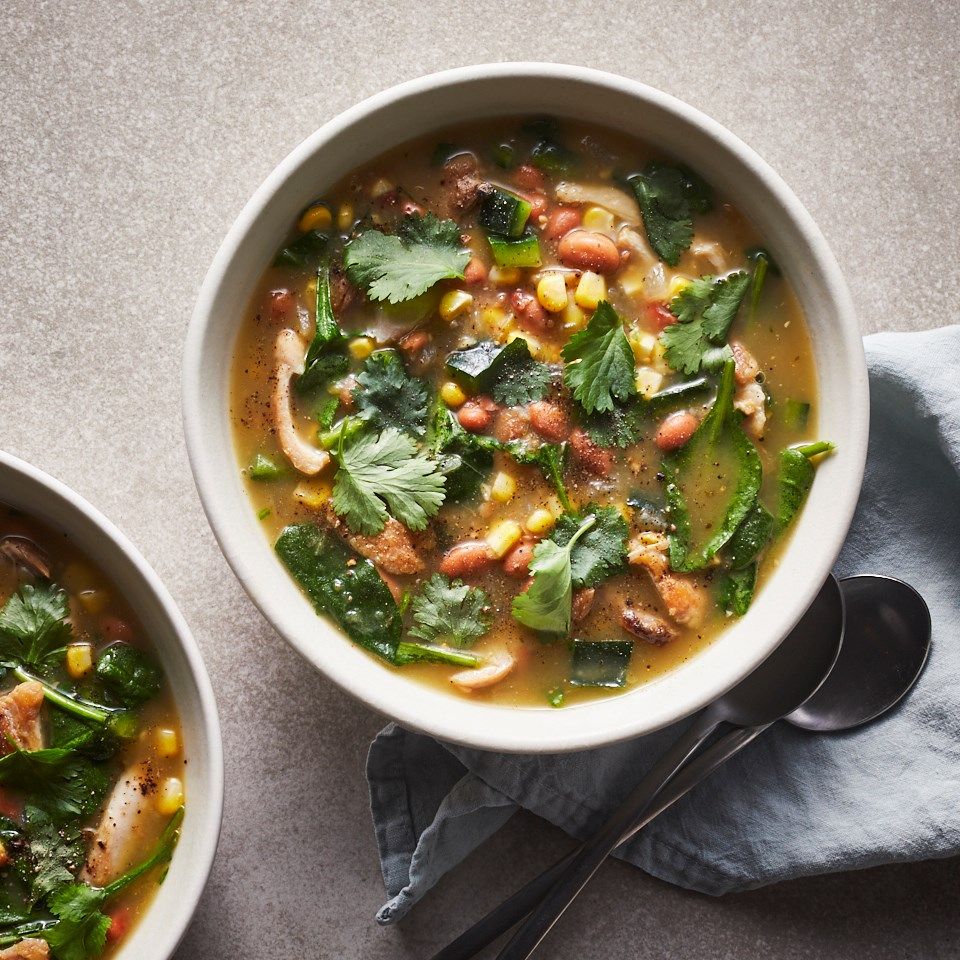 Chicken Chili Verde
Ingredients
2 (15 ounce) cans no-salt-added pinto beans, rinsed, divided
1 tablespoon canola oil
1 ½ pounds boneless, skinless chicken thighs, trimmed and cut into bite-size pieces
2 cups chopped yellow onion (1 medium)
2 cups chopped poblano peppers (2 large)
5 cloves garlic, chopped (about 1 1/2 tablespoons)
4 cups unsalted chicken stock
1 ½ cups prepared salsa verde
½ teaspoon salt
2 cups frozen corn kernels (about 12 ounces)
2 cups chopped spinach (about 2 ounces)
1 ½ cups coarsely chopped fresh cilantro
6 tablespoons sour cream
Directions
Step 1

Mash 1 cup beans in a small bowl with a whisk or potato masher.

Step 2

Heat oil in a large heavy pot over high heat. Add chicken; cook until browned, turning occasionally, 4 to 5 minutes. Add onion, poblanos and garlic. Cook until the onion is translucent and tender, 4 to 5 minutes.

Step 3

Add the remaining whole beans, the mashed beans, stock, salsa and salt. Bring to a boil. Reduce heat to medium and simmer until the chicken is cooked through, about 3 minutes. Stir in corn, spinach and cilantro. Cook until the spinach is wilted, about 1 minute. Serve topped with sour cream.
Nutrition Facts
Serving Size: About 1 1/2 Cups
Per Serving:
408 calories; protein 31.6g; carbohydrates 40.5g; dietary fiber 8.6g; sugars 8.6g; fat 13.9g; saturated fat 3.7g; cholesterol 81.4mg; vitamin a iu 1676.2IU; vitamin c 24.7mg; folate 58.9mcg; calcium 109.2mg; iron 3.8mg; magnesium 84.9mg; potassium 869.3mg; sodium 569.6mg; thiamin 0.1mg.
Exchanges:
3 Starch, 2 Fat, 1 1/2 Vegetable, 1 Lean Protein