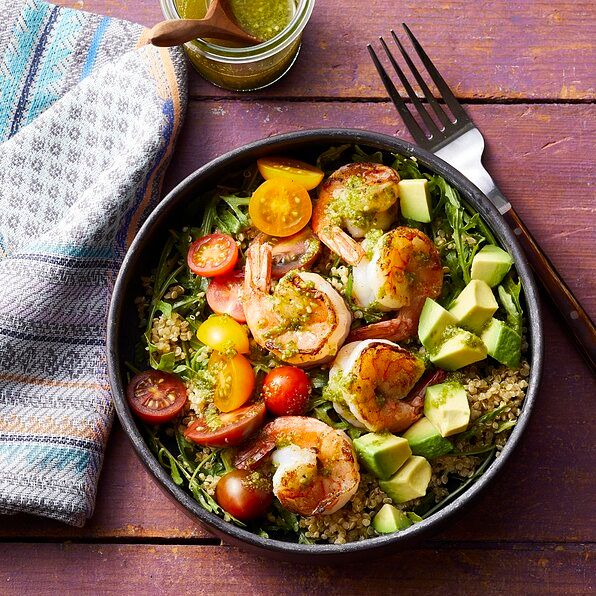 Charred Shrimp & Pesto Buddha Bowls
Ingredients
⅓ cup prepared pesto
2 tablespoons balsamic vinegar
1 tablespoon extra-virgin olive oil
½ teaspoon salt
¼ teaspoon ground pepper
1 pound peeled and deveined large shrimp (16-20 count), patted dry
4 cups arugula
2 cups cooked quinoa
1 cup halved cherry tomatoes
1 avocado, diced
Directions
Step 1

Whisk pesto, vinegar, oil, salt and pepper in a large bowl. Remove 4 tablespoons of the mixture to a small bowl; set both bowls aside.

Step 2

Heat a large cast-iron skillet over medium-high heat. Add shrimp and cook, stirring, until just cooked through with a slight char, 4 to 5 minutes. Remove to a plate.

Step 3

Add arugula and quinoa to the large bowl with the vinaigrette and toss to coat. Divide the arugula mixture between 4 bowls. Top with tomatoes, avocado and shrimp. Drizzle each bowl with 1 tablespoon of the reserved pesto mixture.
Tips
To make ahead: Cover and refrigerate dressing (Step 1) for up to 2 days.
Nutrition Facts
Serving Size: 2 1/2 Cups
Per Serving:
429 calories; protein 30.9g; carbohydrates 29.3g; dietary fiber 7.2g; sugars 5g; fat 22g; saturated fat 3.6g; cholesterol 187.5mg; vitamin a iu 1125.6IU; vitamin c 14.4mg; folate 108.9mcg; calcium 205.4mg; iron 2.9mg; magnesium 130.5mg; potassium 901.1mg; sodium 571.4mg; thiamin 0.2mg.
Exchanges:
4 Fat, 3 Lean Protein, 1 1/2 Starch, 1/2 Vegetable
https://www.eatingwell.com/recipe/274095/charred-shrimp-pesto-buddha-bowls/