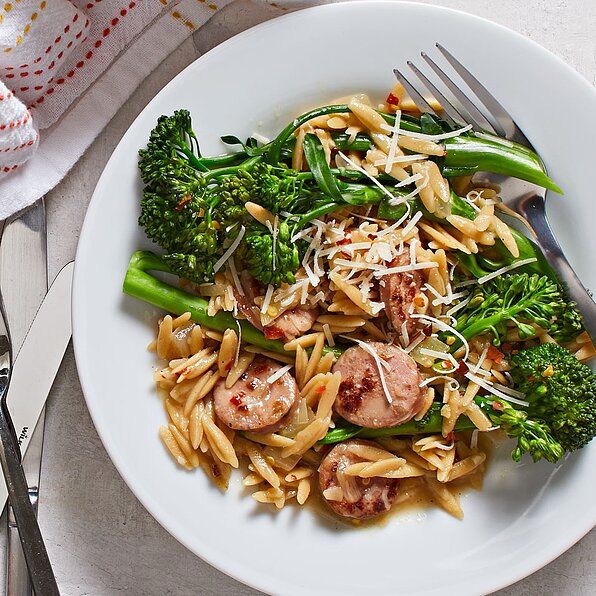 Broccolini, Chicken Sausage & Orzo Skillet
Ingredients
2 teaspoons olive oil
6 ounces cooked chicken sausage, such as Al Fresco Sweet Italian, cut into 1/4-inch slices
½ cup chopped onion
1 cup whole-wheat orzo
3 cloves garlic, minced
2 ½ cups low-sodium chicken broth
¼ teaspoon crushed red pepper, plus more for garnish
¼ teaspoon kosher salt
1 pound broccolini, trimmed, or 4 cups broccoli florets
¼ cup grated Parmesan cheese, plus more for garnish
2 teaspoons lemon zest
Directions
Step 1

Heat oil in a 12-inch cast-iron or other large heavy skillet over medium-high heat. Add sausage and onion; cook, stirring occasionally, until the sausage is browned, 3 to 4 minutes. Add orzo and garlic; cook, stirring, for 1 minute more.

Step 2

Stir in broth, crushed red pepper, and salt. Bring to a boil. Stir in broccolini (or broccoli). Reduce heat, cover and simmer until the orzo is tender, 8 to 10 minutes. Uncover and continue cooking until the broth is absorbed.

Step 3

Stir in Parmesan and lemon zest. To serve, top with additional Parmesan and crushed red pepper, if desired.
Nutrition Facts
Serving Size: 1 1/2 Cups
Per Serving:
333 calories; protein 18g; carbohydrates 42g; dietary fiber 10g; sugars 4g; fat 10g; saturated fat 3g; cholesterol 46mg; sodium 557mg.
Exchanges:
2 Starch, 2 Vegetable, 1 Medium-Fat Protein, 1/2 Fat
https://www.eatingwell.com/recipe/263979/broccolini-chicken-sausage-orzo-skillet/