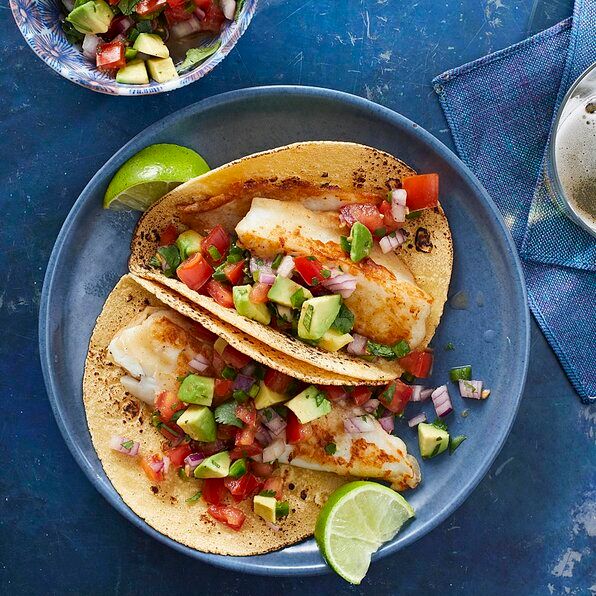 Beer-Battered Fish Tacos with Tomato & Avocado Salsa
Ingredients
Tomato & Avocado Salsa
1 large tomato, diced
¼ cup diced red onion
½ jalapeno, minced
2-3 tablespoons lime juice
¼ teaspoon kosher salt
⅛ teaspoon freshly ground pepper
½ avocado, diced
¼ cup chopped fresh cilantro
Pinch of cayenne, if desired
Fish Tacos
3 tablespoons all-purpose flour
⅛ teaspoon ground cumin
⅛ teaspoon salt
⅛ teaspoon cayenne pepper, or to taste
⅓ cup beer
8 ounces tilapia fillet, cut crosswise into 1-inch wide strips
2 teaspoons canola oil
4 corn tortillas, warmed (see Tip)
Directions
Step 1

To prepare salsa: Combine tomato, onion, jalapeno, lime juice to taste, kosher salt and pepper in a medium bowl. Stir in avocado and cilantro. Add cayenne (if using).

Step 2

To prepare tacos: Combine flour, cumin, salt and cayenne in a medium bowl. Whisk in beer to create a batter.

Step 3

Coat tilapia pieces in the batter. Heat oil in a large nonstick skillet over medium-high heat. Letting excess batter drip back into the bowl, add the fish to the pan; cook until crispy and golden, 2 to 4 minutes per side. Serve the fish with tortillas and the salsa.
Tips
Tip: To warm tortillas, wrap in barely damp paper towels and microwave on High for 30 to 45 seconds or wrap in foil and bake at 300 degrees F until steaming, 5 to 10 minutes.
To make ahead: Cover and refrigerate salsa (Step 1) for up to 3 days.
Nutrition Facts
Serving Size: 2 Tacos & About 3/4 Cup Salsa
Per Serving:
401 calories; protein 28.5g; carbohydrates 39g; dietary fiber 8.3g; sugars 4.4g; fat 15.7g; saturated fat 2.3g; cholesterol 56.7mg; vitamin a iu 1042.3IU; vitamin c 28.3mg; folate 113.4mcg; calcium 77.2mg; iron 2.2mg; magnesium 97.3mg; potassium 974.3mg; sodium 406.5mg; thiamin 0.2mg.
Exchanges:
1 Fruit, 1/2 Other Carbohydrate, 3 Lean Meat, 2 Fat
https://www.eatingwell.com/recipe/249546/beer-battered-fish-tacos-with-tomato-avocado-salsa/