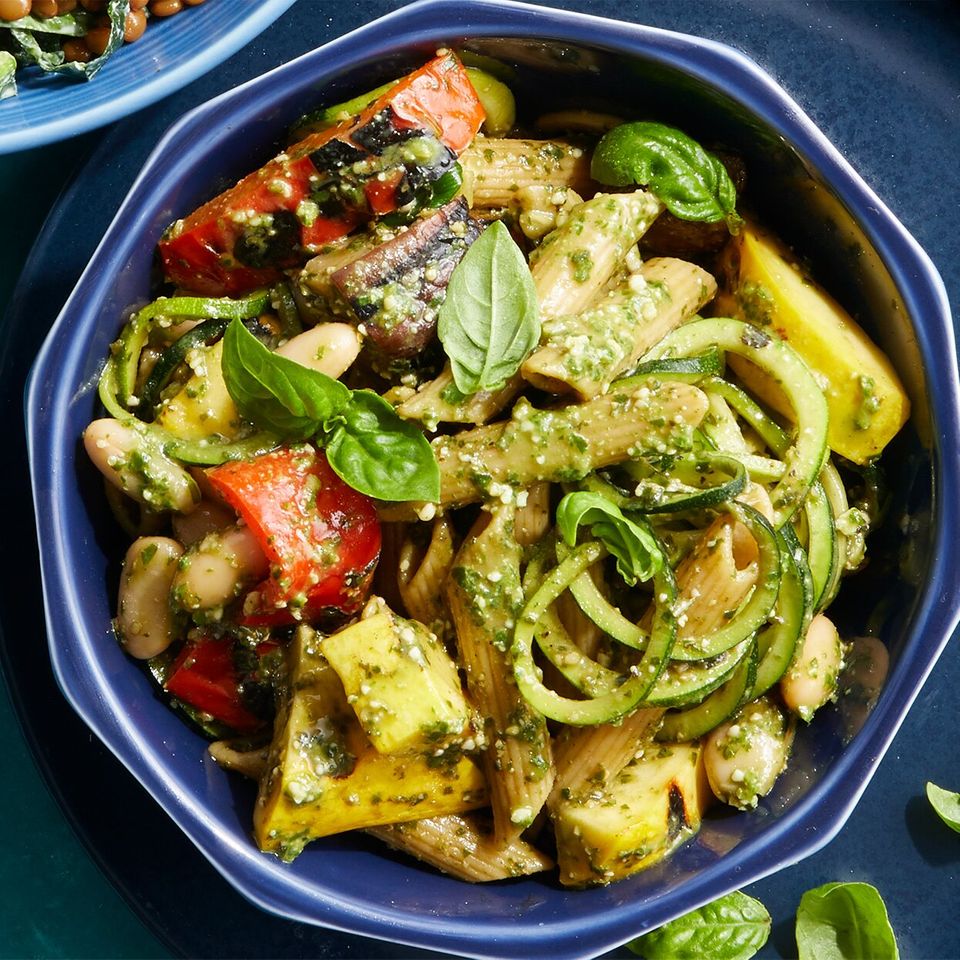 Basil Pesto Pasta
Ingredients
2 cups fresh basil leaves
¼ cup grated Parmesan cheese
¼ cup chopped toasted walnuts
1 clove garlic, minced
½ teaspoon salt, divided
¼ teaspoon ground pepper, divided
¼ cup extra-virgin olive oil plus 2 Tbsp., divided
3 portobello mushroom caps, stemmed, gills removed
2 medium bell peppers (red, orange, and/or yellow), quartered
1 medium yellow summer squash, trimmed and cut into 1/2-inch-thick planks
5 scallions, trimmed
4 ounces whole-wheat penne pasta (1 1/2 cups)
2 cups zucchini "noodles" (6 oz.)
⅓ cup low-sodium canned cannellini beans, rinsed
Directions
Step 1

Preheat grill to medium-high. Bring a large pot of water to a boil. Combine basil, Parmesan, walnuts, garlic, 1/4 tsp. salt, and 1/8 tsp. pepper in a food processor; pulse until finely chopped. Slowly pour 1/4 cup oil through the feed tube; continue processing until the mixture is smooth. Transfer to a medium bowl and set aside.

Step 2

Combine portobellos, bell peppers, squash, scallions, and the remaining 2 Tbsp. oil, 1/4 tsp. salt, and 1/8 tsp. pepper in a large bowl; toss to coat.

Step 3

Oil the grill grates (see Tip). Grill the vegetables until tender and lightly charred, 6 to 8 minutes per side. Remove from the grill and coarsely chop.

Step 4

Cook pasta according to package directions. Add zucchini "noodles" to the pasta during the last 2 minutes of cooking. Reserve 1/2 cup pasta water before draining. Drain the pasta and zoodles and place in a large bowl.

Step 5

Whisk 1/4 cup of the reserved pasta water into the pesto. Pour over the pasta and toss to coat, adding more reserved pasta water if needed to loosen the sauce. Add the grilled vegetables and beans; toss to coat well.
Tips
Tip: To oil grill grates: Rub an oil-soaked paper towel over the grill grates. Use tongs to hold the paper towel. (Do not use cooking spray on a hot grill.)
Nutrition Facts
Serving Size: 2 Cups
Per Serving:
434 calories; protein 12g; carbohydrates 37g; dietary fiber 8g; sugars 8g; fat 29g; saturated fat 4g; cholesterol 4mg; potassium 926mg; sodium 411mg.
https://www.eatingwell.com/recipe/280178/basil-pesto-pasta-with-grilled-vegetables/